"Photography takes an instant out of time, altering life by holding it still."- Dorothy Lange
A moment held in time, a representation of a tangible frame in time, an explanation that transcends words; photography is the medium of truth. Perhaps Peacemaker and Symczak Grant recipient, Ciara McHugh seeks truth and peace through her summer project.  McHugh is the recipient of a sponsorship from the Center for Peacemaking.   Her project is titled "Dialogical Peacemaking: A Photographic Exploration of the Murals of Belfast Project".
The following piece reflects McHugh's thoughts on her experience thus far.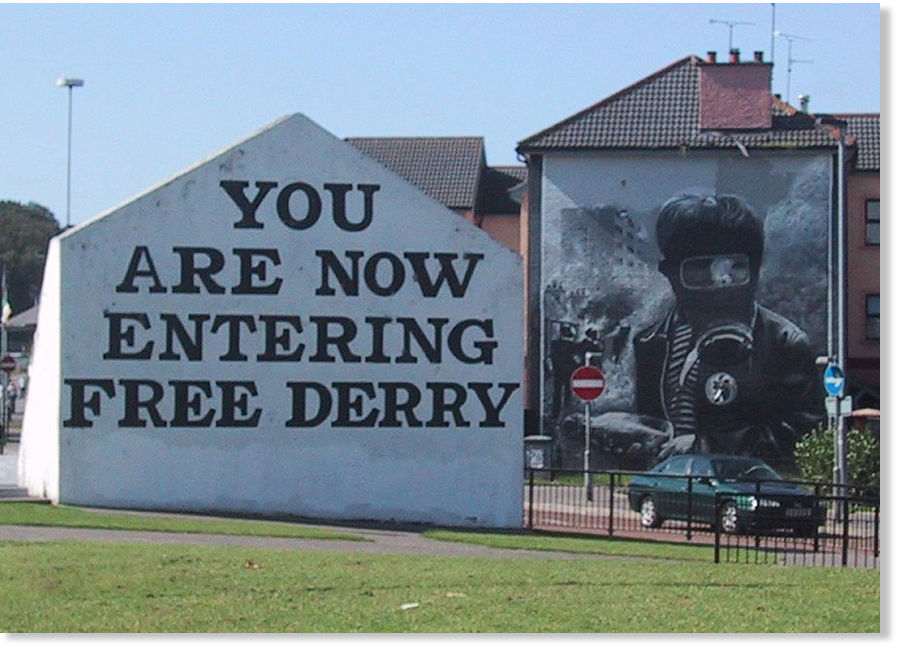 I have always considered myself Irish-American and when asked about my identity, that hyphenated word is the first that comes out my mouth. Identity, however, has a very intricate and complicated existence for individuals, communities and nations. During the few weeks I spent in Belfast and Derry, I found identity to be especially complicated in this small part of the world. When it comes to a place that has endured years upon years of violence in its all-too-recent past, a place where neighbors are grateful for the 40ft walls between their homes and the those just across the street, a place where ever-present political designs lining the streets carries threats to some viewers and memories to others, the idea of identity becomes a muddled mess that builds taller and more dangerous psychological walls than all the painted concrete ones around the city.
In my time here, identity underlaid every conversation I had with the people of these two cities. I had the unbelievable – and humbling – opportunity to talk with men and women, old and young, each of whom offered me a varying take on their own identity, as well as that of their city. Although the conversations did veer into a variety of other topics, words surrounding the place's conflict – with its violence, death tolls, bombs and divisions – always underpinned the rhetoric. Every quote I took from ex-life prisoners from the UVF and IRA, from individuals who had lost their families and livelihoods to the conflict, or from younger children who had heard the stories of their parents' experiences – all of these words exchanged pointed in different ways to a piece of the identity of the North of Ireland. And just as each picture I snapped of the murals on the walls of the two cities told me a story, I found that these communities' stories were merely small pieces of the huge and convoluted picture that makes up the identity of these cities.
Throughout the conversations I had and during my time there, a feeling of overwhelming confusion was constant in my mind regarding the complicated nature of this conflict. I felt pulled in so many directions, not knowing which way was the best road to continue down – past or future, expression or silence, research or engagement – and even whether or not I should continue down some roads. However, after spending my time listening and dialoging in the North of Ireland, one thing is clear: although some speak of the murals and stories as historical markers to remember the past of these communities, the peace process today is an ongoing process that is more a part of the present than the past.